In mid-nineteenth century Chicago, grave robbers, also known as Resurrectionists, were often students from the Rush Medical College, now known as Rush University, a part of the Rush University Medical Center. See a history of that school here.
(This passage from John L. Wilson's book, Stanford University School of Medicine and the Predecessor Schools: An Historical Perspective, gives a detailed account of graverobbing by medical students, including the process of extracting a cadaver from a grave.)

In one particularly notorious case in 1857, the Chicago officials hired Allan Pinkerton and his detective agency to monitor the City Cemetery in an attempt to thwart the theft of bodies from the potter's field. The investigation led to the arrest of a medical student, as well as Martin Quinlan, the City Sexton at the time, who was convicted of conspiring with the students in the body trade. The document detailing the investigation's results, written in Pinkerton's own hand can be seen in the linked box, above.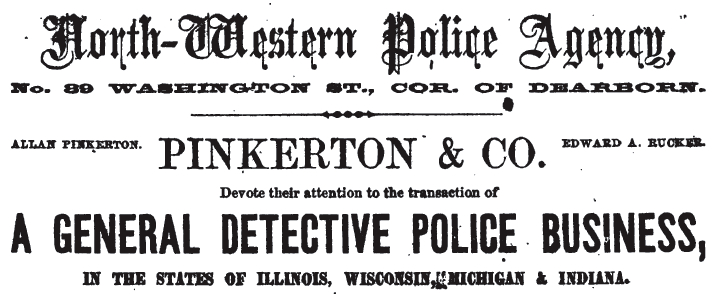 Pinkerton Detective Agency ad in the 1855 Chicago Directory.