Chicago's Pest House, also called the Smallpox Hospital, was built, destroyed, and replaced several times at approximately the same location.

Situated near where North Avenue would one day extend to meet the lake, it was located at the Southeast corner of the City Cemetery, near the Potter's Field.

The Pest House's name was derived from the word "pestilence." It was a contagious disease hospital where victims of cholera and smallpox would be kept in what seems to have been less than satisfactory conditions.

Included in this section are records and newspaper articles, and an 1864 portrayal of the conditions of the facility from the Chicago Medical
Journal
.
Common Council, April 4, 1845

REPORT OF SPECIAL COMMITTEE ON THE PESTHOUSE ON CONTRUCTING A NEW HOUSE
_______________________________________________

June 27, 1853
from the Common Council records:
Ordered
That the City Superintendent forthwith proceed to remove the pest house to within 40 feet of the south fence of the cemetery and that a fence at least 10 feet high be built on the west and north side of said house.
_______________________________________________

Chicago Press and Tribune, September 8, 1859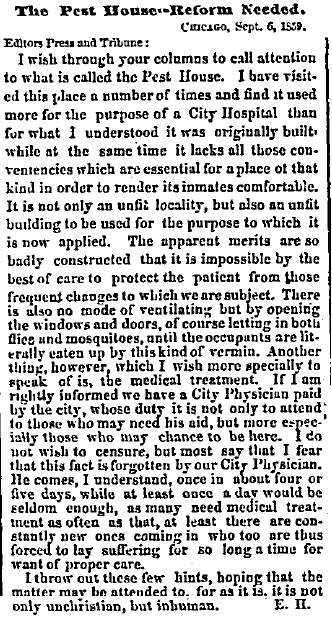 Common Council, July, 17 1860
ORDER TO REPAIR THE PESTHOUSE TO ACCOMMODATE SMALLPOX CASES
Chicago Tribune, January 19, 1864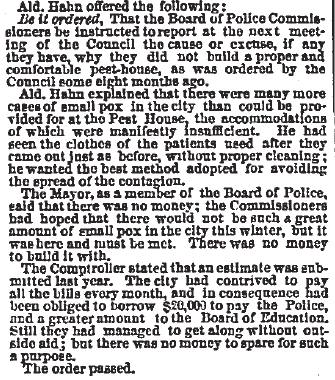 Chicago Tribune, January 24, 1864

Chicago Tribune, January 31, 1864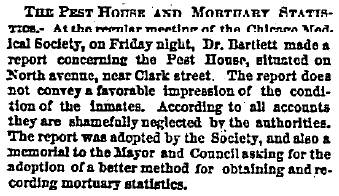 Chicago Tribune, December 10, 1864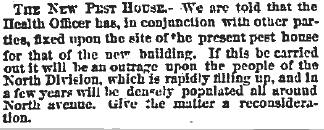 Chicago Tribune, July 25, 1865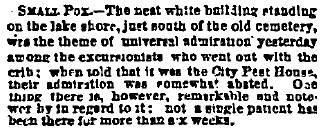 Chicago Tribune, May 14, 1867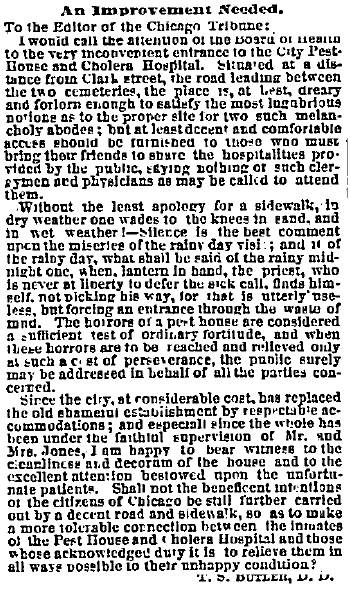 Chicago Tribune, March 4, 1872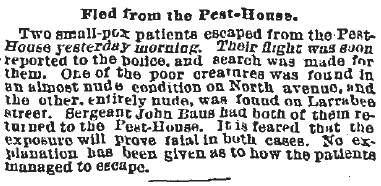 Chicago Tribune, July 20, 1872





Chicago Tribune, February 3, 1874





Chicago Tribune, March 15, 1874



__________________________________________

From A.T. Andreas, History of Chicago, 1885, Volume I, page 594:

It was in 1843 that the city or small-pox hospital was constructed, located just above North Avenue, near the lake shore, on the grounds purchased for a cemetery. In March, 1845, the building burned to the ground. The fire originated from some ashes which were carelessly left too near the building. Its burning was particularly unfortunate at this time, as there were several small-pox cases, and patients were then being treated in the pest house. Mayor Garrett had even issued a proclamation for general vaccination. While another hospital was being erected on the same site, the patients were accommodated at the house of a Mr. Shaw, in the northeastern part of the city.
____________________________________________

From A.T. Andreas, History of Chicago, 1885, Volume II, page 536.

The small-pox hospital, in 1859 was on North Avenue, between Wolcott Street (now North State) and Lake Michigan, and Dr. William Wagner was the physician in charge. George B. Bay was the warden, Mrs. Clara F. Bay, the matron, and Miss Ann Anderson, assistant. This building remained at this location, and under this administration, until the year 1864, when a large and spacious building, costing $13,593.18, was erected, which contained twenty-four wards. It had a main building, two stories and basement, forty-eight by twenty-four feet, and two wings, each one story and basement, of thirty-two by sixty feet. This building was called Lake Hospital.