On March 4, 1846 for the price of $45, the City sold a 9/10-acre parcel of land to the first organized Jewish group in Chicago. Like the Catholic Cemetery south of the City Cemetery, individual lots and other information about the private Jewish cemetery grounds were not recorded in City records.

In 1854, upon discovering that the deed to the Jewish Cemetery was missing, and realizing that the deed was never entered into the City records the Kehiloth Anshe Mayriv congregation wrote to the Common Council asking for an official deed to their burial grounds. Following up in 1855, a group of men from the Kehiloth Anshe Mayriv Association submitted an affadavit testifying they had collectively paid for the deed. In 1856 a new deed was issued.

From the years 1856 through the 1870s, no records representing the ownership of the privately- owned Jewish Cemetery, are found within the city's files. The Jewish Cemetery history re-entered the public record when the Lincoln Park Commissioners were transitioning the landscape from a graveyard to a public park. There are no public records of disinterments from the Jewish Cemetery.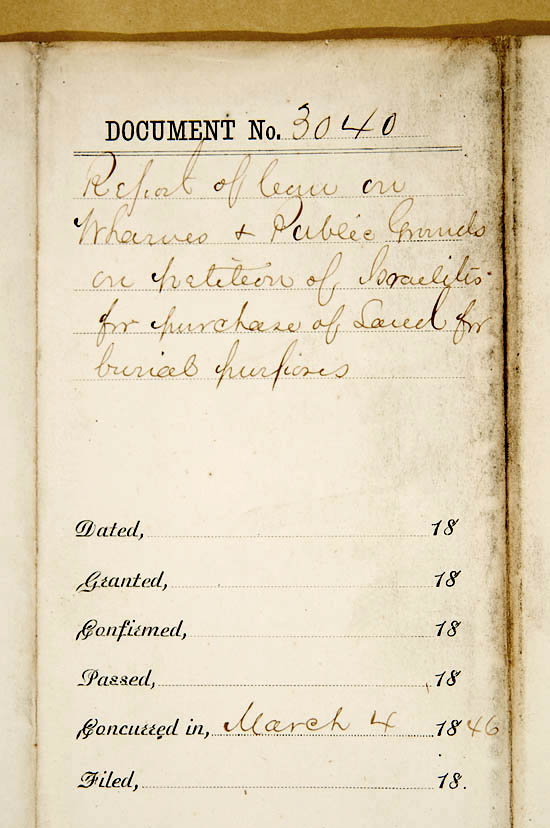 DOCUMENT NO. 3040

Report of Com on Wharves & Public Grounds on petition of Israelites for purchase of Land for burial purposes

March 4, 1846

___________________________


Chicago Daily Tribune, April 2, 1876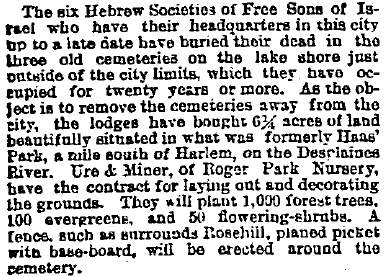 Chicago Daily Tribune, May 2, 1876
Condemnation Proceedings
Mr. Harvey read the following:
J.D. Harvey, Esq. Dear Sir:
In compliance with your request, I send appended a statement of the real estate which has been condemned for Lincoln Park. Proceedings were instituted for the condemnation of all land not embraced in the park, lying between North avenue and Fullerton avenue, and Clark and Franklin streets, in the year 1874, and all of the said land has been condemned, with the exception of a few cemetery lots and a tract of less than one acre, known as the Jewish Cemetery. The law required either condemnation or purchase the land.

E.S. Taylor.

Chicago Daily Tribune, May 18, 1877
All the land contemplated in the Lincoln Park scheme appears to have been secured, with the exception of about 899-1,000 of an acre, now owned by a Jewish congregation, and alleged by the Commissioners to be held at too high a price to justify present purchase.

Lincoln Park Proceedings, April 20, 1880
A communication was received from a Committee of Kehiloth Anshe Mayriv Association asking permission to fence their tract in the old cemetery. – consideration postponed to ascertain what kind of fence was proposed.

Lincoln Park Proceedings, September 9, 1882
Mr. Joseph Pollock was present representing the Kehiloth Anshe Mayriv Association – and requested that the Board would resume negotiations for the purchase of the tract in the Park owned by the Congregation – formerly known as the Jewish Cemetery. – On motion the consideration was postponed until a full board could be present.


Lincoln Park Proceedings, November 14, 1882
A further consideration of the subject of purchasing the tract known as the Jewish cemetery was reissued and on motion the following resolution was adopted.

Lincoln Park Proceedings, December 26, 1882
The secretary reported that he had received title papers from Mr. Pollack, conveying the tract in the old cemetery described as follows. Commencing on East line of Section 33 Township 40 North of range 14 East of 3d P.M. 18 14/100 chains North from South East corner of said Section, thence running north 1 86/100 chains, then West 4 78/100 chains, thence South, 1 85/100 chains, thence East 4 78/100 to place of beginning, belonging to the Kehiloth Anshe Mayriv and that the same were approved by Comr. Wittmor and a certificate for Eight thousand dollars had been issued payable Nov 13,1887 with interest at 3 pc. And that the papers consisting of a deed from the City of Chicago to the Kehiloth Anshe Mayriv Association, the proceedings of the congregation of the Kehiloth Anshe Mayriv, and a Deed from the Kehiloth Anshe Mayriv to the Commissioners of Lincoln Park had been filed for record in the office of the recorder of deeds of Cook County.

"Resolved that the sum of $8000 be allowed for the tract belonging to the Kehiloth Anshe Mayriv Association formerly used as a place of burial, payment in 5 years interest at 39c." The title to be approved by Comr Withrow.


Chicago Daily Tribune, April 1, 1884