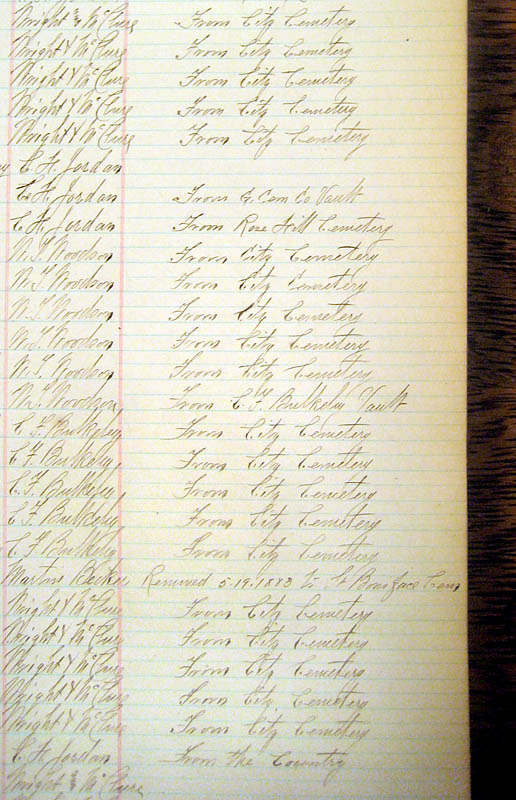 By permission and courtesy of the The Trustees of the Graceland Cemetery Improvement Fund.
Presented above, is the top of the opening page of the first Graceland Cemetery interment book. The first recorded burial, on April 13, 1860, was a reinterment from the Chicago City Cemetery. The son of Graceland's founder, Thomas B. Bryan, Daniel Page Bryan died on April 12, 1855. It was not uncommon to move remains more than once, as evidenced by the notation that he was moved to another lot within Graceland's grounds, thirty years later. Graceland Cemetery has thorough historical records relating to their burials.
_______________________

By April 1866, before the surge of grave removals resulting from the Milliman Tract lawsuit, of the 4,218 total burials in Graceland Cemetery, 565 were from disinterments from the City Cemetery. In 1866, forty-eight bodies arrived in one day, on May 16th.
_______________________

Of Graceland's 2,126 individuals reinterred from the City Cemetery, the majority arrived during two key periods. The 1866-1867 Milliman Tract removals brought 325 newly recorded graves into the grounds. The 1872 move to incorporate the City Cemetery into Lincoln Park showed 336 recorded reinterments.
_______________________

Graceland Cemetery's recorded reinterments from Chicago's City Cemetery:

1860: 21
1861: 27
1862: 74
1863: 196
1864: 119
1865: 128
1866: 394
1867: 156
1868: 221
1869: 186
1870: 102
1871: 105
1872: 228
1873: 107
1874: 36
1875: 19
1876: 3
1877: 0
1878: 0
1879: 0
1880: 0
1881: 4
_____________________

The Lincoln Park Commissioners' Annual Reports from 1878 - 1886 detail thirty seven lot exchanges. A City Cemetery lot could hold up to eight bodies. It is not clear if these exchanges were simple transitions of legal land titles, or if bodies were removed.
______________________

Presented on the left is a detail from an interment book from 1872. The left column lists the attending undertaker for each reinterment. Remarkably, this listing is a fair representation of the early history of Chicago undertakers. Wright and McClure, C.H. Jordan, W.T Woodson, and C.F. Bulkeley are all represented within the undertaker section of this Web Site.
_______________________

The scraps of paper, represented at the right, show two orders from Joseph H. Ernst, the City Cemetery superintendent, to L. Shomer, the gravedigger. Shomer's notes confirm the removal of three large and three small bodies at the top, and one large and two small bodies from the bottom order. (See more disinterment orders here.)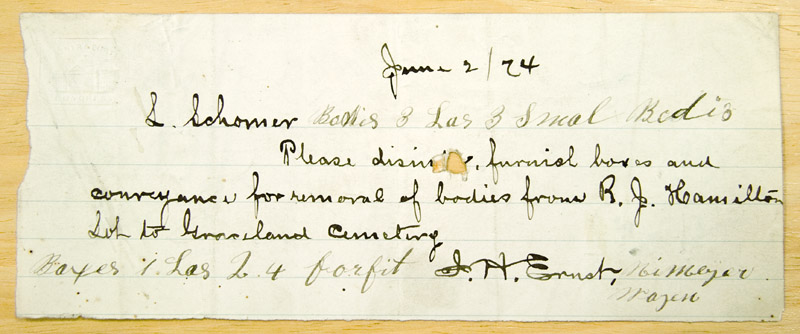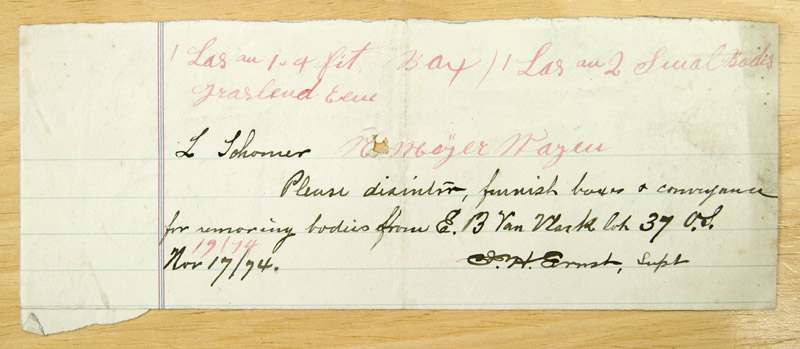 Both items by permission and courtesy of the Chicago Park District Special Collections.