When Rosehill Cemetery opened its doors at the end of July 1859, the City Cemetery's sales of lots had been halted for nearly three months. It is unclear where families who did not already own lots in the old cemetery, buried their dead during those interim months. Burials in the City Cemetery potter's field and existing family lots continued until 1866.
Rosehill Cemetery received the City Cemetery's first disinterred remains in 1859, when it became Chicago's first private cemetery. People who owned family lots in the City Cemetery were invited to choose equal-sized lots for transfer to Rosehill Cemetery.
Chicago's city officials arranged for Rosehill Cemetery to accommodate individuals without family or the means for purchasing a larger plot, single lots for a minimal expense. (See the Common Council records detailing this arrangement,
here
.)
___________________________________________________________
These scraps of paper show three orders from Joseph H. Ernst, the City Cemetery superintendent, to L. Shomer, the grave digger. Shomer's notes confirm the removal of a total of nine large bodies and eleven small bodies.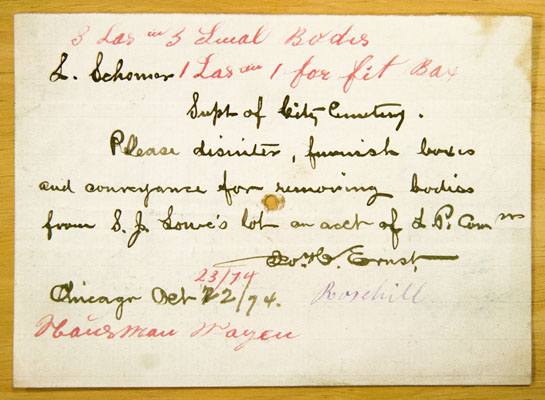 All disinterment orders by permission and courtesy of the Chicago Park District Special Collections.