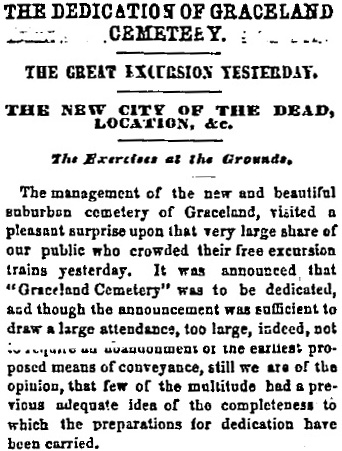 Due, perhaps, to the lack of fanfare leading to the opening of Graceland Cemetery, the dedication did not receive nearly the coverage this same newspaper afforded the opening of Rosehill Cemetery a year earlier.
______________________________

Chicago Press Tribune, August 31, 1860
(excerpts from article, left)
The management of the new and beautiful suburban cemetery of Graceland, visited a pleasant surprise upon that very large share of our public who crowded their free excursion trains yesterday. It was announced, that "Graceland Cemetery" was to be dedicated, and though the announcement was sufficient to draw a large attendance, too large, indeed, not to require an abandonment of the earliest proposed means of conveyance, still we are of the opinion, that few of the multitude had a previous adequate idea of the completeness to which the preparations for dedication have been carried.
. . .
Graceland is a tract of seventy acres, lying upon and east of the Green Bay Road, about one mile and a half beyond the point where the Lake View road diverges from it, and two miles beyond the city limits. The natural topography of the grounds is admitted by all to be peculiarly beautiful – the gentle undulations and the grove of old trees over the entire subdivision, having suggested the appropriate name.
. . .
The grounds are laid out and improved under the counsel of Wm. Saunders, Esq., the eminent Landscape Gardener, of Philadelphia, by Swain Nelson, of this city. Improvement commenced in April last.
. . .
The grounds are enclosed and the broad graveled roads and winding paths among the trees are all finished. The entrance to the Cemetery is through a massive and characteristic stone structure, a gateway, with large waiting-rooms at either hand. Quite a number of lots have already been purchased and improved by well known citizens, and the sale of lots will take a fresh impulse from this point.
By a regulation of the Company, the only enclosure allowed to lots will be some variety of the hedge, and nothing in wood or iron will be allowed. This will secure a peculiarly charming effect to the improvements of the grounds.
. . .
The nearest Cemetery without the city limits, the easiest of access, and by the liberal terms of its managers in price of lots, as well as by the other necessary incidental expenses of interment, Graceland is placed within the reach of every class of our residents. It can be reached, and that on the best road leading out of Chicago, by funeral corteges directly from the city, at an expense but moderately in advance of that required in interments in the old Cemetery.