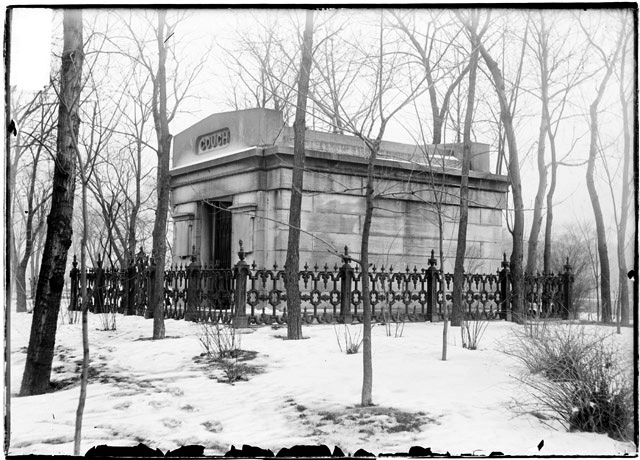 1903 photograph from glass plate negative, courtesy of the Chicago History Museum./Digital color photograph, taken April 2007.
As a part of
Hidden Truths
, I have asserted that the Couch family tomb is the oldest structure left standing in the Chicago Fire zone. This stone vault has stood in place since it was built on-site in 1858. It was this conspicuous vestige from the City Cemetery that initiated this project. During informal polling of friends and acquaintances living in Chicago, I was surprised to learn that many who exited Lake Shore Drive, driving through Lincoln Park, had not noticed the family mausoleum. Some who recalled seeing it over the years, assumed it to be a storage facility, or a comfort station. Those who had seen it and knew it stood on the site of an old cemetery, responded matter-of-factly. No one seemed to know whose family was entombed there or why it remained in Lincoln Park. When I began my online search through the historical Chicago Tribune, I was equally surprised to see those questions and responses articulated frequently over the past one hundred years.
In this section of the project, the
Hidden Truths
involve Ira Couch and his family tomb. From information in the public record, there have been three reasons given for why the tomb remains: because of the family's political connections it was allowed to stay; it was too expensive to move; and it was left as a "not uninteresting reminder" of the City Cemetery. (The quoted passage is from I.J. Bryan's 1899 Report of the Commissioners and a History of Lincoln Park.) I dispute Bryan's reason in the
Why is it There?
section, at the left.