After Ira Couch died in Cuba on February 28, 1857,
his body was returned to Chicago.
Chicago Tribune, March 4, 1857

The newspaper also duly recorded Couch's funeral.
Chicago Tribune, March 6, 1857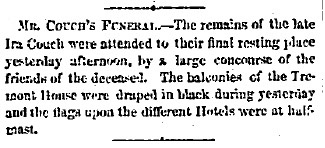 Ira Couch was laid into this vault seventeen months after his death. Prior to that time, he was likely interred or entombed in a Couch family plot, already owned within the City Cemetery. His father, Ira House Couch, died in Chicago in July 1845. His brother James's two-year old daughter died in 1853. The City Sexton did not begin officially filing deeds for the cemetery lots until 1851. By that time, the older portion of the cemetery (where the Couch Tomb remains) was becoming filled, and new surveys were established on grounds further north.

It is my contention that the Couch family already owned the lot where the tomb remains today, as it seems to be within an area where there were other vault lots. Although I did not find the recorded deed for the Couch lot, the Peacock family tomb, built on ground acquired by that family in 1851, was located approximately one hundred feet north of the Couch Tomb. By the time Ira Couch died, there were no more lots available for sale in the area of his tomb.
The Couch family vault, as described in the 1858 Chicago Tribune article, was massive for its time, requiring eight horses to set it into place. Like the Couch-owned Tremont House, this stone edifice was designed by
John M. Van Osdel
, who is considered Chicago's first professional architect.
The original iron fence surrounding the structure disappeared some time in the 1910s. From that point, until 1994, the tomb was surrounded by various makeshift wire barricades, and the site appeared neglected. See more photographs of the tomb through time in the
Why is it Still There?
section, to the left. Read about the current look of the site in
The
Renovation
section.